Via 70 Million. 
70 Million
WE INVITE YOU TO TRAVEL THE SOUND WAVES AND ACROSS THE COUNTRY WITH US FOR 70 MILLION, A DOCUMENTARY PODCAST ABOUT CRIMINAL JUSTICE REFORM FROM LANTIGUA WILLIAMS & CO.
Our Peabody-nominated 70 Million documentary podcast investigates how locals are addressing the role of jails in their backyards. Our reporters travel around the country and hear from people directly impacted by encounters with jails and adjacent policies, and from those committed to reversing the negative effects on people and communities. 70 Million was recognized as the bronze winner in the Narrative/Documentary Podcast category of the 2019 New York Festivals and Silver winner in the 2020 competition. Now in its third season, it is made possible by a grant from the Safety and Justice Challenge at the MacArthur Foundation. 70 Million is a member of The Democracy Group, a collective of podcasts exploring the meaning of democracy today.
Season one chronicles the toxic impact of local jails on people and communities across the country, and what neighbors and local leaders are doing about it. Over the course of ten episodes, host Mitzi Miller takes you on a sound-rich, journalistic trek into jails and related institutions and how they feed and reinforce the interwoven criminal justice systems in the country. This season earned a bronze award from the 2019 New York Radio Festivals Radio Awards in the category of Narrative/Documentary podcasts.
Season two follows a new batch of reporters who take a closer look at communities and programs trying bold solutions to solve big problems in criminal justice. Hear stories about cash bail reform, overturning wrongful convictions, and more, from folks who make up the 70 million US adults with a criminal record and whose lives touch our own. This season eared a silver award from the 2020 New York Radio Festivals Radio Awards in the category of Narrative/Documentary podcasts.
Season three is premiering on September 14, 2020.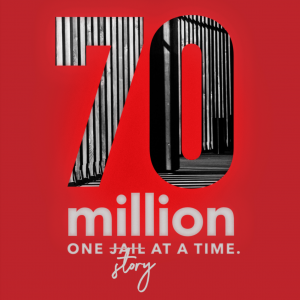 Via 70 Million.