Written on
August 26, 2020
in
Books
Via Google Books. 
Black Feminist Thought
Knowledge, Consciousness, and the Politics of Empowerment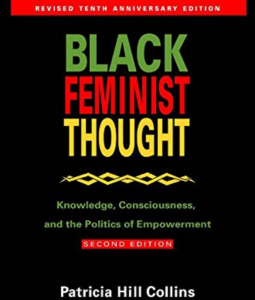 In Black Feminist Thought, Patricia Hill Collins explores the words and ideas of Black feminist intellectuals as well as those African-American women outside academe. She not only provides an interpretive framework for the work of such prominent Black feminist thinkers as Angela Davis, Alice Walker, and Audre Lorde, but she shows the importance of self-defined knowledge for group empowerment. In the tenth anniversary edition of this award-winning work, Patricia Hill Collins expands the basic arguments of the first edition by adding several important new themes. A new discussion of heterosexism as a system of power, an expanded treatment of images of Black womanhood, U.S. Black feminism's connections to Black Diasporic feminisms, and more attention to the importance of social class and nationalism all appear in the new edition. In addition, the new edition includes recent developments in black cultural studies, especially black popular culture, as well as recent events and trends such as the Anita Hill hearings and the backlash against affirmative action.
Via Google Books.