Written on
August 14, 2019
in
Dance
Recently I took a month-long vacation in Europe visiting Norway, The Netherlands, Germany, France, and Spain. It was incredible. In all the metropolitan cities I visited, transportation systems were reliable, streets were clean, and people were welcoming. Moreover, I could take trains from one country to another for less than a hundred dollars!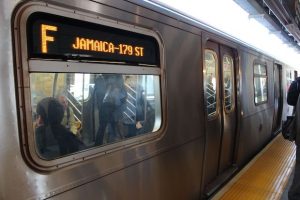 After my vacation ended, I went through a strong New York aversion. Every small thing annoyed me: I hated the F train for arriving ten minutes late, I was frustrated that I had to tip everywhere, I didn't want to pay eight dollars for a beer, and the crazy people on the streets were getting me riled up. Jumping back into the expensive, impersonal, and capitalist lifestyle of New York was harder than I had expected. I wasn't ready to re-assimilate into the rat race, and I surely wasn't ready for all the rats.
On Saturday night, I decided to go out to attend an immersive dance performance taking place in the lobby of The Ace Hotel in Manhattan. Being a choreographer, I can be quite critical of dance, but on this night, I was pleasantly surprised. It wasn't the innovation of the pieces or the complexity of the choreography or the execution of the performers that got me. It was simpler than that. The thing that struck me was that this was a completely free event taking place in the lobby of a hotel where anyone could walk in. There were tourists checking-in, and their first experience of New York was seeing three dancers in skeleton-costumes grooving in the lobby, not to mention the cocktail bar that was casually co-existing in the space.
Intimate immersive theater isn't exclusive to New York, it exists everywhere. However, on any given day, the sheer number of dance performances, theater events, comedy shows, circus acts, and musical concerts that take place in this city is astounding. There are beat-boxers and break-dancers on trains, musicians at subway stations, painters and sketch artists in parks, and art vendors everywhere. If it exists in the world, it most probably exists in New York.
At the Ace Hotel, I ran into several different colleagues, three of whom were dancing in the performance. This happens way too often when you have been in the contemporary dance scene for a while. The community is extremely well connected and close-knit, probably a consequence of dance being an oral tradition. It was comforting to know that I didn't have to coordinate in advance to find company at a dance show. I was bound to bump into people and even make new friends, the best part being that it was all because of art. Gradually my frustration with New York started to chip away.
Dance and community drive me, and I find it cathartic to be in a city filled with so much art. The kind of artists that live in New York are truly a unique breed of badasses and some of the most inspiring people I have ever met. Many of them juggle multiple jobs and still manage to maintain active social lives. I'll admit, they can be intimidating, but that also pushes me to work harder. The irony is, and I know this for a fact, that almost all of them look up to other members of the community and feel the same way as I feel about them.
For me, home is not a place but a community of people who you can relate to, people who bring out the best in you, and people who support you. I have built my New York home for over seven years and I continue to expand it every day. I think to live in New York, or anywhere else for that matter, you need to first ask yourself what brings you joy? What keeps you ticking? Does the city give that to you? If not, then maybe you can seek it or maybe you can create it.
People often title New York as the greatest city in the world but it isn't great because of its efficient MTA system, or because of how clean it is, or how good it smells. It isn't great because of all the friendly people on the streets or because of the extremely low cost of living. And New York surely isn't great because of Times Square. Honestly, New York probably isn't the greatest city in the world, but it does have one of the most vibrant art scenes I've ever encountered, a melting pot of innovation, creativity, expression, inclusivity, and acceptance. New York is cool because no matter what time it might be, I know I can always grab food and take the subway home, and New York is unique because it creates communities for everyone regardless of where they come from or what they do. This city's tough love has made me strong and resilient which has enabled me to pursue my dreams and ambitions. I guess I kind of like New York; until the next time I'll leave it and come back to hate it again.