Habitat: Home New York City premiered one year ago this fall. What are Habitat: Home artists up to now?
Featured Artist Update from: Melisa Tien, Writer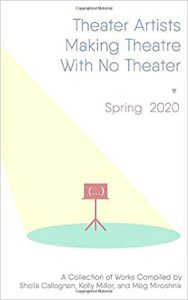 I'm part of an anthology of plays called Theater Artists Making Theatre With No Theater. Written in Spring 2020, published in Fall 2020. Last time I checked (yesterday) it was the #1 New Release in Drama and Play Anthologies on Amazon.  The proceeds go to theater artists in need.
Purchase here or apply for relief here.
—
Melisa Tien is a playwright, lyricist, librettist, and producer.  She is the author of the plays BEST LIFE, THE BOYD SHOW, YELLOW CARD RED CARD, FAMILIUM VULGARE, and REFRAIN.  She is co-author of the music-theater works SWELL and MARY. SWELL was part of the HERE Summer Sublet Series in July 2019. BEST LIFE will be produced at JACK in March 2020. MARY will have a reading at New Dramatists in April 2020. A New Dramatists resident playwright, Melisa has also been a New York Foundation for the Arts Fellow in Playwriting/Screenwriting, a resident of the MacDowell Colony and the Millay Colony, and a member of the 2010-2012 Women's Project Lab. She has presented work at the Sewanee Writers' Conference, the Great Plains Theatre Conference, the Women Playwrights International Conference, and the National Asian American Theatre Conference and Festival. She teaches experimental theatrical writing at Sarah Lawrence College. BA, UCLA; MFA, Columbia University. 
Connect with Melisa:
https://www.melisatien.com/
Instagram: @tienmelisa