Written on
July 20, 2019
in
Music
It's a frigid afternoon in February 2018 and I'm sitting alone at Cafe Mocha, a cozy little restaurant in the East Village. I'm there to meet Rohan, founder and choreographer of the Rovaco Dance Company. The company had recently been commissioned by the LaGuardia Performing Arts Center to create an hour long dance work for April 2019, and I was tasked with creating the music. We skipped dessert and went straight to work.
Collaborating in dance was absolutely new to me, but I was very excited for the opportunity. As the weeks went on I began sending 1 minute long music ideas to Rohan and we would discuss which pieces to expand on.  After sending a piece I often would imagine Rohan at home listening to my master works and improvising choreography on the spot. The reality of that creative process was more different than I thought.
It's 7pm somewhere in downtown Manhattan and I'm sitting in the corner of a large mirrored dance rehearsal room. Rohan and the full dance company of 5 are rehearsing in front of me, contorting in different shapes and lifting each other off the ground just minutes after I awkwardly introduced myself. It had been 2 months since Rohan and I started working together and this was my first time at one of their rehearsals. My preconception about the dance creative process was that it was always created alone, the intricacies of the choreography somehow notated and related to the dancers later. Rehearsals would then follow a strict "do as I say" type of procedure from the choreographer. I couldn't have been more wrong with Rovaco.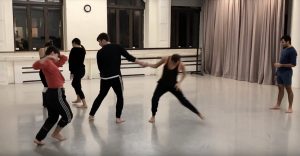 At the rehearsal I immediately noticed that the dancers would offer their ideas to the initial choreography Rohan had conceptualized, gradually making it their own. The integration of the dancer's input influenced the composition of the choreography. Rohan would also try to capitalize on the natural movements of the dancers that most excited him and would try to incorporate that into the choreography. The movements were often complex and altered on the spot if necessary, with near instant memorization by the dancers. I was mesmerized and surprised seeing this collaborative creative process with so many people happening with such ease.
It dawned on me that as a composer I was only used to working with one person at a time, and my experience collaborating with several musicians at once was also very limited. It seemed that my bandwidth for taking in a lot of input from others had been narrowed. I realized that my preconception about the dance creative process ultimately applied more to me. However, as I worked with Rovaco throughout the year I began to feel more and more part of the company, frequently attending rehearsals and hearing feedback from the dancers themselves. Eventually it felt like I was part of a band, tirelessly rehearsing and taking notes from the group for our first big show.
Working with the Rovaco Dance Company has excited me about the prospects and possibilities of creating with more people. Approaching different ideas with others can yield results you could never have imagined. It's one of the main reasons why Habitat: Home has attracted me. Rohan and I will be working together again on Habitat alongside Tais Szilagi and Taylor Edelle Stuart.