Written on
July 13, 2019
in
Music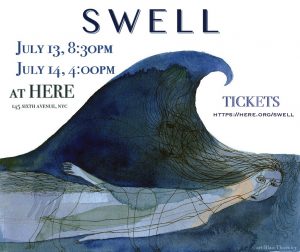 A show that I produced and did some writing for is going to open in just a few hours.  It's a music-theater work made up of ten songs, written by ten composers, all of whom are immigrants or children of immigrants.  It's called SWELL. And it happens to be running the same weekend ICE is poised to round up undocumented workers and deport them.
To me, this is a stark reminder of why theater matters, why the gargantuan effort of putting something together that involves 20+ artists (as this one does) is a sane thing to do, when there is almost certainly no money to be made from it.  SWELL began as a way for artists with immigrant backgrounds to share something of their personal histories as immigrants and children of immigrants. That, in itself, was meaningful enough to bring everyone together to work on it. The show has now become a way for us to confront the narrative of 'illegal' and 'other' with an altogether different narrative of 'relatable' and 'human'.
Out of our efforts have come songs that represent composers from India, Israel, Mexico, the Philippines, Russia, Taiwan, and Trinidad.  For most of the composers, this is the first time they've had the opportunity to address their identities as immigrants or children of immigrants.  I could see early on that SWELL was going to be less about 'immigrants talking about immigration,' and more about people moving from one place they called 'home' to a new and different place they had to call 'home', and everything that encompasses.  
I myself am a daughter of immigrants.  My parents immigrated from Taiwan, which means I've straddled two cultures my whole life.  I'd like to think that this has made me more receptive to other cultures that I've had the privilege of being immersed in over the course of my life.  Now, here I am, getting ready to welcome an audience to the first outing of this big, beautiful work, and hoping they'll be receptive, too. I'm so proud of what we made, and eager for the piece to no longer be just ours, but everyone else's.