Written on
August 26, 2020
in
Books
Via Kiese Laymon.
Heavy: An American Memoir
Winner of the Carnegie Medal for Nonfiction, LA Times Isherwood Prize for Autobiographical Prose, Barnes and Noble Discover Award, and Audible's Audiobook of the Year, HEAVY was also named one of the Best Books of 2018 by the The New York Times, Publishers Weekly, NPR, Broadly, Library Journal , The Washington Post , Southern Living , Entertainment Weekly, San Francisco Chronicle and The New York Times Critics.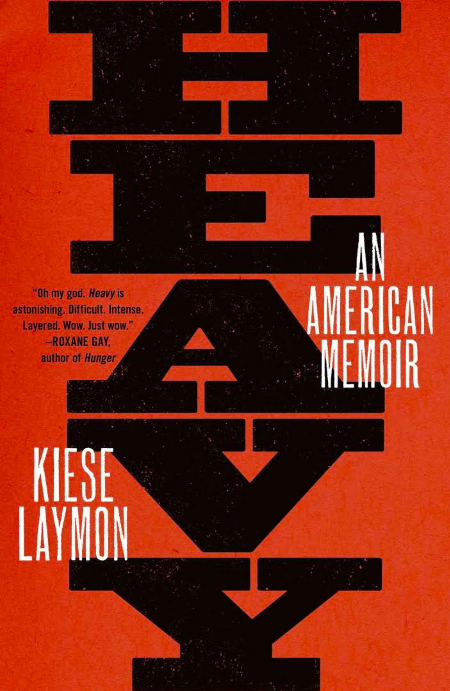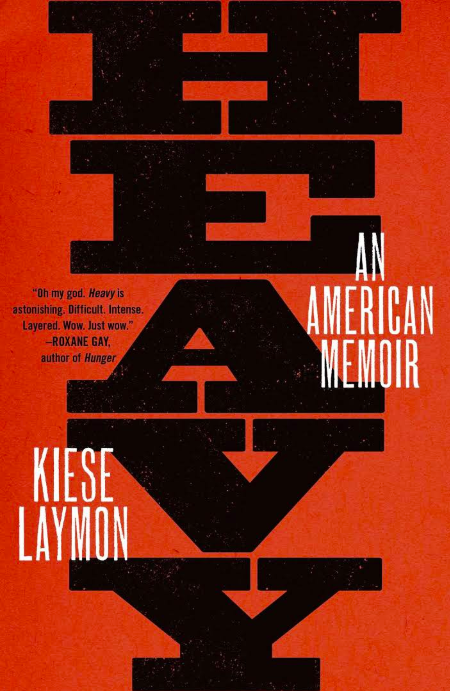 "Heavy by Kiese Laymon brings awareness that the work of liberation done in Jackson, Mississippi long before young Laymon's birth, was ultimately not done, or was not done well enough.  Or was perhaps impossible to do.  Which I sometimes felt was true. The suffering of his childhood! Seven years we spent dreaming a childhood for him, for all black children (and ultimately white ones too, in that state) that would have a foundation not just in a first rate education but in an intimacy with joy.  Didn't happen, as this harshly honest memoir attests. And what of his mother? Caught between the needs of creativity, love, mothering, pushing the race forward, and surviving in a land where not one of us was safe; and her desperation, fear of falling backward, dread that her only son might become another Emmett Till.
Did we fail you, Beautiful Son, because we did not fight long enough, there where you were born?  Did not love strongly enough? Did not die from bullets and bombs, broken hearts, depression and soul wounds sufficiently enough? But you have come through, anyway.  So did we fail completely? In you I see the soul of black folk.  As DuBois thought we might. Now that your inner mirror is clear, I know you see this too. There is a purpose to all this suffering. In fact, as an elder, I can begin to see suffering as a birth. A birth of soul. A growth of it. Now the old hymns and spirituals begin to make sense, though most need liberating from a context they have outgrown. Thank you for HEAVY." -Alice Walker
"We are in a time of hollow platitudes, scratched on white posterboards. Things such as "Love Wins" pepper the sky during protests, but few ask when love alone has won anything that has felt like prolonged justice. What resonates most sharply in Heavy is how Laymon's love does not resolve itself. The book ends with Laymon apologizing to his mother for all he's written, and all he's brought to light. "I wanted to write a lie. You wanted to read a lie," is a sentiment expressed both at the start of the book and start of the final paragraph. There's an underlying argument here: that we've arrived at the point we have as a country in part because of lies we've told ourselves about what America means. People have allowed the symbols of love to steer them away from honesty. In Heavy, the story begins messy, and ends messy, and in between we learn why the mess was worth fighting through, and fighting for. That love, by itself, often loses. It is the love that edges to its antithesis, weighed down by secrets, lies, complexities, bitterness, rage that can save us, even if a reader, a writer, or a nation is ashamed to admit that truth. The love that requires one to peel back its worst layers and still see the person—or the polis—waiting underneath is the one that echoes."– Hanif Abdurraqib, 4Columns
"Heavy provokes fear, wanting, love, and humor. It's Mary J. Blige on the car radio and a cool, grainy glass of Tang, telling lies with your friends, having sex and mistaking it for love. Laymon subtitled his book, "An American Memoir," and that's more than a grandiose proclamation. He is a son of this nation whose soil is stained with the blood and sweat of his ancestors. In a country both deserving of his love and hate, Laymon is distinctly American. Like the woman who raised him and the woman who raised her, he carries that weight, finding uplift from sorrow and shelter from the storms that batter black bodies." -Renée Graham, Boston Globe
"Dear white people, please read this memoir. Dear America, please read this book. Kiese Laymon is a star in the American literary firmament, with a voice that is courageous, honest, loving, and singularly beautiful. Heavy is at once a paean to the Deep South, a condemnation of our fat-averse culture, and a brilliantly rendered memoir of growing up black, and bookish, and entangled in a family that is as challenging as it is grounding." –Martha Anne Toll, NPR
 "Heavy is one of the most important and intense books of the year because of the unyielding, profoundly original and utterly heartbreaking way it addresses and undermines expectations for what exactly it's like to possess and make use of a male black body in America… the book thunders as an indictment of hope, a condemnation of anyone ever looking forward." –Nathan Deuel, Los Angeles Times
 "He's simply one of the most talented writers in America." –Anna DeVries, New York
 "Staggering… Laymon lays out his life with startling introspection. Heavy is comforting in its familiarity, yet exacting in its originality. It's a tapestry of heart and heartache about a struggling, gifted single mother and the son who loves, fears, and protects her… That tumultuous, but deeply loving mother-son relationship is this book's centerpiece. Appropriately, Laymon writes the book as a letter to his mom. This could come off gimmicky; instead it gives his memoir the intimacy of a secret shared, and the immediacy of real time… Heavy provokes fear, wanting, love, and humor. It's Mary J. Blige on the car radio and a cool, grainy glass of Tang, telling lies with your friends, having sex and mistaking it for love. Laymon subtitled his book, 'An American Memoir,' and that's more than a grandiose proclamation. He is a son of this nation whose soil is stained with the blood and sweat of his ancestors. In a country both deserving of his love and hate, Laymon is distinctly American. Like the woman who raised him and the woman who raised her, he carries that weight, finding uplift from sorrow and shelter from the storms that batter black bodies." –Renée Graham, Boston Globe
"Extraordinary…Heavy covers grim territory, but reads too intimately to look away… Heavy is raw but controlled: a refined, warm, generously poetic literary work. Laymon elicits tears through crushing honesty, summons centuries of trauma through a survey of the present. What does it mean to tell an American story? This memoir argues, persuasively, that doing so reveals what we're so rarely willing to see. That one person's truth reflects all of ours." –David Canfield, Entertainment Weekly
 "Laymon's work is known for its honesty and courage, as well as for the way he reckons with his own past and our collective national one. In Heavy, he takes the stuff of his life and renders it on the page…we're just lucky that Laymon shows us a path toward reckoning." –Abigail Bereola, The Paris Review
 "How do you love authentically when lies feel so familiar? That's the question Kiese Laymon explores in his devastating personal story…Deeply personal…Laymon writes with a fearless intimacy and bracing honesty, indicting the treatment of black people in the U.S. The book's a high-water mark for both personal narrative and social criticism." –Cady Lang, TIME
 "One of the most dynamic memoirs of the year, this coming-of-age tale packs themes of race, class, politics, sexuality, self-esteem, and family into a magnificently unique — and often unsettling — package. Laymon's challenging tale of growing up black and obese amid white privilege, with a mother who pushed him to his breaking point, is exemplary." –The Boston Globe
 "With his new memoir, Heavy, the Southern writer cements his place in the canon of American literature."–Bim Adewunmi, Buzzfeed 
"Laymon's memoir is a reckoning, pulling from his own experience growing up poor and black in Jackson, Mississippi, and tracking the most influential relationships, for better or worse, of his life: with his brilliant but struggling single mother, his loving grandma, his body and the ways he nurtures and punishes it, his education and creativity, and the white privilege that drives the world around him…with shrewd analysis, sharp wit, and great vulnerability — Laymon forces the reader to fully consider the effects of the nation's inability to reconcile its pride and ambition with its shameful history."–Arianna Rebolini, Buzzfeed
"With echoes of Roxane Gay and John Edgar Wideman, Laymon defiantly exposes the "aches and changes" of growing up Black in this raw, cathartic memoir reckoning with his turbulent Mississippi childhood, adolescent obesity, and the white gaze." –Oprah Magazine
 "Weight is both unavoidably corporeal and a load-bearing metaphor in this novelist-essayist's sharp and (self-) lacerating memoir… Every action has a reaction, and every success its cost, as Laymon thrives in some respects but succumbs to addictions (food most of all). Race, class, and the scars of sexual violence are front-and-center, a constant pressure and threat, but its effects are registered at ground level, a space too complex and for pop sociology."–Boris Kachka, New York
"Highly anticipated…a staggering opus on growing up as a husky black boy in the 1980s South. Much of the book pays homage to his complicated mother, a brilliant academic who disciplined with physical violence. It is a heartbreaking narrative on black bodies: how we hurt them, protect them, and try to heal them." – Bri Kovan, Elle
  "Laymon provocatively meditates on his trauma growing up as a black man, and in turn crafts an essential polemic against American moral rot." –Entertainment Weekly
 "[A] tender, thorny, remarkable memoir… [Laymon] weaves a rich and elegantly colloquial self-interrogation in the service of a larger interrogation of the country he lives in. It takes in how deeply and variously his body has been marked by shame and trauma, by sexual and physical abuse, by the compulsive soothings and punishings of food and starvation and obsessive exercise, his anorexia often invisible to others because of their inability to see a tall black man as in any way vulnerable." –Lidija Haas, Harper's
 "[Heavy] looks at how Black families and Black bodies are affected by secrets and deception in our nation's current social and political climate." –Joi-Marie McKenzie and Sydney Scott, Essence
 "Visceral…Black bodies take up space in America, and Laymon reminds us that this geography is as much psychic as physical…Heavy is conceived as a letter to [Laymon's mother], following in the tradition of black intellectuals imagining their most heartfelt, terrifyingly intimate manifestos about America to their black relatives, from James Baldwin's The Fire Next Time to Ta-Nehisi Coates' Between the World and Me. Like Baldwin and Coates, Laymon refuses to lie about America's broken promises to itself, and it won't offer easy comfort or redemption narratives. America's failures regarding its African-American citizens, Laymon tells his mom, are the country's fault lines writ large, and he's not at all sure we can close the gaps…In addressing Heavy to one particular black woman, Laymon manages to touch on all of the nation's wounds, his finger trembling as they poke the bloody gashes, but poking them nevertheless." –Walter Biggins, Atlanta Journal-Constitution
 "Kiese… chronicles the profound challenges of living in a black body. This is an important book." –Bookish
 "Finally! This memoir has been mentioned as 'forthcoming' at the end of every Kiese Laymon interview or magazine article for a few years, and I've been excited about it the entire time. Laymon has written one novel and one essay collection about America and race. This memoir focuses on Laymon's own body—in the personal sense of how he treats it and lives in it, and in the larger sense of the heavy burden of a black body in America." –The Millions
 "As Laymon read, I forgot my feet, forgot discomfort, swept along by what he was telling the crowd about his childhood, his body, Mississippi, his mother, and masculinity. Since then, I've been eagerly looking forward to reading the rest of Heavy." –R. O. Kwon, Vulture
"Laymon's memoir about his struggles with body issues growing up as a black man in Mississippi… promises profound historical and political commentary." –Victor La Valle, Traveler
"Kiese Laymon is one of the most dazzling, inventive, affecting essayists working today, and his memoir lives up to the dizzyingly high expectations set for it… Laymon is fearless in his willingness to go to the darkest, the most tender, the most raw spaces of his life, and of our shared lives in the fragile experiment that is America. His writing will shock and comfort you, make you realize you are not alone, and stun you with its insights about desire, need, and love." –Kristin Iversen, Nylon
"Kiese Laymon's intense, layered Heavy is a provocatively personal look at racism and oppression in America… Heavy is unsparingly honest in the pain it depicts. But the book, despite its title, isn't without some levity. Laymon's prose positively sings, helped by the humanity and humor he brings to this astonishing memoir."   –AV Club
"Kiese Laymon writes about his experience being a black man in the United States in Heavy: An American Memoir. The title says it all when it comes to the type of stories he shares. He doesn't shy away from hard topics, including oppression, sexual violence, and his difficult relationship with his mother." –Stephanie Topacio Long, Bustle
"In recent years, Kiese Laymon has established himself as an essential voice in nonfiction writing. In his latest book, the memoir Heavy, he traces the path of his own life and charts out his family's history, pushing towards harrowing emotional spaces and unexpected revelations throughout." –Vol. 1 Brooklyn
"Heavy is an apt title for this memoir, which covers not only physical obesity—the author weighed 300 pounds as a teenager—but also the weight of systemic racism and white supremacy, and the power of a mother's love." –Emily Temple, Literary Hub
"Laymon has written a highly insightful book illuminating the human experience in a way that is easily accessible to the reader…intricate and loving…Writing with the passion of a poet, the skill of an intrepid reporter and all the swagger of an old school MC rocking the microphone at Madison Square Garden, Laymon writes candidly about his life in a way that few of us have the courage to. And, thanks to his courageous love, we are all richer human beings for reading Heavy." –Charlie R. Braxton, Jackson Clarion-Ledger/Hattiesburg American
"In Heavy, Laymon has written a memoir that feels like a body blow… Laymon's reputation as a writer grows with each piece he produces. Heavy will cement his reputation as one of America's best writers." –Lorraine Berry, Signature Reads
"In this stylish and complex memoir, Laymon… presents bittersweet episodes of being a chubby outsider in 1980s Mississippi… Laymon laces the memoir with clever, ironic observations about secrets, sexual trauma, self-deception, and pure terror related to his family, race, Mississippi, friends, and a country that refuses to love him and his community… His evolution is remarkable, from a 'hard-headed' troubled teen to an intellectually curious youth battling a college suspension for a pilfering a library book to finally journeying to New York to become a much-admired professor and accomplished writer. Laymon convincingly conveys that difficult times can be overcome with humor and self-love, as he makes readers confront their own fears and insecurities." –Publishers Weekly (starred review)
 "Pyrotechnic… Far more than just the physical aspect, the weight he carries also derives from the burdens placed on him by a racist society, by his mother and his loving grandmother, and even by himself. At times, the author examines his complicated romantic and sexual relationships, and he also delves insightfully into politics, literature, feminism, and injustice, among other topics. A dynamic memoir that is unsettling in all the best ways." –Kirkus (starred review)
"Emphatic and unsparing… His expansive intellect and fluid prose bear up to haunting family secrets and American deceptions with deep, potent wells of beauty, humor, and empathy." –Kirkus (profile)
"Spectacular memoir… Laymon applies his book's title to his body and his memories; to his inheritance as a student, a teacher, a writer, an activist, a black man, and his mother's son—but also to the weight of truth, and writing it. So artfully crafted, miraculously personal, and continuously disarming, this is, at its essence, powerful writing about the power of writing." –Booklist (starred review)
"Laymon breaks down what it means to be a large black boy growing up in Mississippi, exploring the politics and policing of black male bodies, the heartache of black excellence and white privilege, the conflict that comes with loving an abusive parent and stepping away to save yourself. As beautiful as it is heartbreaking…This powerful, passionate narrative is hopeful but real, like a confessional with no sugarcoating. If you care about black lives and black experience, this is a must-read."  –Library Journal (starred review)
"Heavy… promises to light the world on fire." –Publishers Weekly
"A personal narrative that illuminates national failures, Heavy is defiant yet vulnerable, an insightful, often comical exploration of weight, identity, art, friendship, and family that begins with a confusing childhood—and continues through twenty-five years of haunting implosions and long reverberations." –The Rumpus
"Laymon's essays have attracted much attention: this set of reflections, in which he attempts 'to name secrets and lies that he and his mother spent a lifetime avoiding,' has been long awaited." –The Guardian
"Kiese Laymon's excellent Heavy has also been a highlight… I urge everyone to read this affecting memoir about the heaviness of living while black in America. It's not a didactic book, opting instead for a nuanced exploration of how the trauma that America imposes on black people reverberates through generations." –Ismail Muhammad, Berkleyside
Advance Literary Praise
"Oh my god. Heavy is Astonishing. Difficult. Intense. Layered. Wow. Just wow." –Roxane Gay, author of Hunger
"Heavy is an act of truth telling unlike any other I can think of in American literature, partly due to Laymon's uniquely gifted mind—his ability to pursue the ways we lie to each other while also loving each other, or, not, and the humility he brings to bear while doing so, this consistently brings us back to life, to what matters in this world. Heavy is a gift to us, if we can pick it up—a moral exercise and an intimate history that is at the same time a story about America." – Alexander Chee, author of How to Write an Autobiographical Novel
"Kiese Laymon is our most important urgent fiercest voice. To read Kiese Laymon is to be in awe." –Junot Diaz, author of Brief and Wondrous Life of Oscar Wao  
"There are those rare writers in the world whose work unearths the stories that have been buried in and around us for so long. They force us to confront all that we would be rather not see, and ask us to reckon with why we have failed to see it for so long. Kiese Laymon is one such rare writer. Heavy is a memoir, yes, but it is also a testament to a sort of truth and self-reflection that is increasingly rare in our world today. If for some reason you were not already convinced, there should no longer be any doubt that Kiese Laymon is one of the important writers of our time." –Clint Smith, author of Counting Descent
"I did not want to remember what I have found necessary to forget. Ready or not, Heavy remembers for me, and for us all, with the exquisite black southern precision of a post-soul blues. Its brilliance is in its intimate and firm reminder that we are more than what has been done to us by others and by this nation, and that we can and must unburden ourselves as we move towards freedom. With Heavy, Laymon, the chief blues scribe of our time, writes and plays us a path through the weight of things." –Zandria Robinson, author of This Ain't Chicago
 "What I have always loved about Kiese Laymon is that he is as beautiful a person as he is a writer. What he manages to do in the space of a sentence is unparalleled, and that's because no one else practices the art of revision as an act of love quite like Kiese. He loves his mother, his grandmama, Mississippi, black folks, his students, his peers, and anyone else willing to embrace his love enough to give us this gorgeous memoir, Heavy. This reckoning with trauma, terror, fear, sexual violence, abuse, addiction, family, secrets, lies, truth, and the weight of the nation and his body would be affecting in less capable hands, but with Kiese at the helm it is nothing short of a modern classic. These sentences that he so painstakingly crafted are some the most arresting ever printed in the English language. Kiese's heart and humor shine through, and we are blessed to have such raw humanity rendered in prose that begs for repeat readings. We do not deserve Heavy. We do not deserve Kiese. That he is generous enough to share is testament to his commitment to helping us all heal." –Mychal Denzel Smith, author of Invisible Man, Got the Whole World Watching
 "At once tender and explosive, Kiese Laymon's Heavy is a growing-up story laden with an unusual candor. The book is stark, beautiful, challenging, and refreshing. Laymon explores abuse, love, violence, addiction, gender, and race without ever veering into the realm of the titillating or dehumanizing. He carries his people with a sweetness and fullness of heart that allows them to shine in three dimensions, allowed to be ugly and complicated and beloved and human. The abundance of Heavy is going to be a gift for many hurting hearts, in our time and beyond." –Eve Ewing, author of Electric Arches  
"Kiese Laymon's new book is an emotional powerhouse. He fearlessly takes the reader into the dark corners of his interior life. Wound, grief, and enduring pain reside there. But this book is a love letter. And, as we all know, love is a beautiful and funky experience. Thank you, Kiese, for this gift." – Eddie Glaude, author of Democracy in Black
"Kiese Laymon has done nothing less than write the autobiography of the first generation of African-Americans born after the Civil Rights movements of the 1960s and the Black Power ethos of the 1970s. His story of grappling with love and violence and language and our bodies is this generation's story, and it is as moving and heartbreaking and heartwarming as you would expect. And then some." – Courtney Baker, author of Humane Insight
"On the low, many in these United States of America imagine that to be black means that whiteness, whether in its feigned supremacy or brutal imaginings, should be the center of every black story. But nah, that's meager. In Heavy, the Kiese Laymon remembers how people who loved each other or might of loved each other, nearly shattered everything around them with hurt and then struggled to piece it all back together. Kiese crafts the most honest and intimate account of growing up black and southern since Richard Wright's Black Boy. Circumventing the myths about blackness, he writes something as complex and fragile as who we is. An insider's look into the making of a writer, Heavy is part memoir and part look into the books that turned a kid into a story teller. Heavy invites us into a black South that remembers that we loved each other through it all. In "Nikki-Rosa," Nikki Giovanni wrote that 'black love is black wealth.' This book is the weight of black love, and might we all be wealthy by daring to open up to it." – Reginald Dwayne Betts, author of A Question of Freedom 
"Heavy heaves, sings, hums, and runs all night to make it clear that there's an alternative, that Black history's first premise is mutuality. That mutuality isn't perfect, ain't safe, it's dangerous, in fact, and Heavy moves in a terrible and beautiful and so gentle proximity to that—at crucial times our primary—danger, the ones we love and who love us the most. I was with Kiese the whole damn heavy-floating way, word for word in laughter and tears, in recognition, refraction and revelation. But, way more than any of those, sentence by sentence, I was with Kiese in thanks." –Ed Pavlic, author of Another Kind of Madness 
"In Heavy, Kiese Laymon asks how to survive in a body despite the many violences that are inflicted upon it: the violence of racism, of misogyny, of history — the violence of a culture that treats the bodies of black men with fear and suspicion more often than with tenderness and attentive care. In prose that sears at the same time as it soars, Kiese Laymon breaks the unbearable silence each of these violences, in their peculiar cruelty, has imposed. Permeated with humility, bravery, and a bold intersectional feminism, Heavy is a triumph. I stand in solidarity with this book, and with its writer." – Lacy Johnson, author of The Other Side and The Reckonings 
"How appropriate Kiese Laymon's stunning memoir is titled, Heavy. Not only are the stains and hurt highlighted here, heavy, but also the writer's capacity to revive graveyards of ghosts who haunt and seemingly will continue to haunt the protagonist. Laymon is a fearless writer, our writer, who's willing to expose and explore his most vulnerable interiors so that we might get closer to our truths. This is a southern book for backroads and cornbread, for Cadillacs and collard greens, for big mamas and moonshine. Heavy is full of our beautiful and ugly histories, and a declaration of how we might seek redemption. The colorful and complicated characters here speak a blues and poetry that is both nostalgic and familiar. This is the book we need right now. We should all be thankful for this ultramodern weighty testament of heartache, catharsis, and utter brilliance." – Derrick Harriell, author of Stripper in Wonderland and Ropes 
"You do not just read Kiese Laymon's work. It does a reading of you too—one that unburies the stories you thought you would never be able to tell truthfully, and reminds you of your voice to tell them. Heavy marks this quality in its highest definition yet. Written with as much devastating poignance as a humor only the Black South could inspire, Heavy asks readers not just to observe Laymon's courageous journey to understand even the most frightening complexities of life in an anti-Black, sexist, fatphobic society, but to embark on it with him. In doing so, Laymon's gorgeous wordsmithing moves us beyond simple binaries of pleasure and pain, joy and trauma, toward a deeper love for communities too often flattened into one dimension. Heavy is a book for the ages." –Hari Zyad, author of Black Boy Out of Time
"Heavy is beautiful, lyrical, painful, and really brave. It is both exigent and timeless. Laymon's use of juxtaposition—of the political and personal, the many stories of dishonesty and history, violence, everything—is all-world." –Nafissa Thompson-Spires, author of Heads of the Colored People
Via Kiese Laymon.