Written on
August 29, 2020
in
Books
Via Penguin Random House. 
The Warmth of Other Suns
THE EPIC STORY OF AMERICA'S GREAT MIGRATION
By ISABEL WILKERSON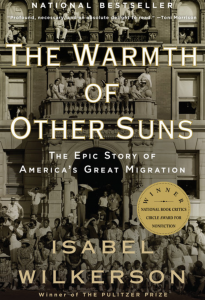 ABOUT THE WARMTH OF OTHER SUNS
In this epic, beautifully written masterwork, Pulitzer Prize–winning author Isabel Wilkerson chronicles one of the great untold stories of American history: the decades-long migration of black citizens who fled the South for northern and western cities, in search of a better life.
NATIONAL BOOK CRITICS CIRCLE AWARD WINNER
   
From 1915 to 1970, this exodus of almost six million people changed the face of America. Wilkerson compares this epic migration to the migrations of other peoples in history. She interviewed more than a thousand people, and gained access to new data and official records, to write this definitive and vividly dramatic account of how these American journeys unfolded, altering our cities, our country, and ourselves.
With stunning historical detail, Wilkerson tells this story through the lives of three unique individuals: Ida Mae Gladney, who in 1937 left sharecropping and prejudice in Mississippi for Chicago, where she achieved quiet blue-collar success and, in old age, voted for Barack Obama when he ran for an Illinois Senate seat; sharp and quick-tempered George Starling, who in 1945 fled Florida for Harlem, where he endangered his job fighting for civil rights, saw his family fall, and finally found peace in God; and Robert Foster, who left Louisiana in 1953 to pursue a medical career, the personal physician to Ray Charles as part of a glitteringly successful medical career, which allowed him to purchase a grand home where he often threw exuberant parties.
Wilkerson brilliantly captures their first treacherous and exhausting cross-country trips by car and train and their new lives in colonies that grew into ghettos, as well as how they changed these cities with southern food, faith, and culture and improved them with discipline, drive, and hard work. Both a riveting microcosm and a major assessment, The Warmth of Other Suns is a bold, remarkable, and riveting work, a superb account of an "unrecognized immigration" within our own land. Through the breadth of its narrative, the beauty of the writing, the depth of its research, and the fullness of the people and lives portrayed herein, this book is destined to become a classic.
MARK LYNTON HISTORY PRIZE WINNER
HEARTLAND AWARD WINNER 
DAYTON LITERARY PEACE PRIZE FINALIST
NAMED ONE OF THE TEN BEST BOOKS OF THE YEAR BY
The New York Times  • USA Today • O: The Oprah Magazine • Amazon • Publishers Weekly •  Salon • Newsday  • The Daily Beast
 
NAMED ONE OF THE BEST BOOKS OF THE YEAR BY
The New Yorker •  The Washington Post • The Economist • Boston Globe • San Francisco Chronicle •  Chicago Tribune • Entertainment Weekly • Philadelphia Inquirer • The Guardian • The Seattle Times • St. Louis Post-Dispatch  • The Christian Science Monitor 
PRAISE
"A landmark piece of nonfiction . . . sure to hold many surprises for readers of any race or experience….A mesmerizing book that warrants comparison to The Promised Land, Nicholas Lemann's study of the Great Migration's early phase, and Common Ground, J. Anthony Lukas's great, close-range look at racial strife in Boston….[Wilkerson's] closeness with, and profound affection for, her subjects reflect her deep immersion in their stories and allow the reader to share that connection." —Janet Maslin, The New York Times
"The Warmth of Other Suns is a brilliant and stirring epic, the first book to cover the full half-century of the Great Migration… Wilkerson combines impressive research…with great narrative and literary power. Ms. Wilkerson does for the Great Migration what John Steinbeck did for the Okies in his fiction masterpiece, The Grapes of Wrath; she humanizes history, giving it emotional and psychological depth."—John Stauffer, Wall Street Journal
"[A] massive and masterly account of the Great Migration….A narrative epic rigorous enough to impress all but the crankiest of scholars, yet so immensely readable as to land the author a future place on Oprah's couch."   —David Oshinsky, The New York Times Book Review (Cover Review)
"[A] deeply affecting, finely crafted and heroic book. . . .Wilkerson has taken on one of the most important demographic upheavals of the past century—a phenomenon whose dimensions and significance have eluded many a scholar—and told it through the lives of three people no one has ever heard of….This is narrative nonfiction, lyrical and tragic and fatalist. The story exposes; the story moves; the story ends. What Wilkerson urges, finally, isn't argument at all; it's compassion. Hush, and listen."  —Jill Lepore, The New Yorker
"The Warmth of Other Suns is epic in its reach and in its structure. Told in a voice that echoes the magic cadences of Toni Morrison or the folk wisdom of Zora Neale Hurston's collected oral histories, Wilkerson's book pulls not just the expanse of the migration into focus but its overall impact on politics, literature, music, sports — in the nation and the world."—Lynell George, Los Angeles Times

"One of the most lyrical and important books of the season."—David Shribman, Boston Globe
"[An] extraordinary and evocative work."—The Washington Post
"Mesmerizing. . ."—Chicago Tribune

"Scholarly but very readable, this book, for all its rigor, is so absorbing, it should come with a caveat: Pick it up only when you can lose yourself entirely."  —O, The Oprah Magazine
"[An] indelible and compulsively readable portrait of race, class, and politics in 20th-century America. History is rarely distilled so finely." Grade: A —Entertainment Weekly

"An astonishing work. . . . Isabel Wilkerson delivers! . . . With the precision of a surgeon, Wilkerson illuminates the stories of bold, faceless African-Americans who transformed cities and industries with their hard work and determination to provide their children with better lives." —Essence

"Isabel Wilkerson's majestic The Warmth of Other Suns shows that not everyone bloomed, but the migrants—Wilkerson prefers to think of them as domestic immigrants—remade the entire country, North and South. It's a monumental job of writing and reporting that lives up to its subtitle: The Epic Story of America's Great Migration." —USA Today
"[A] sweeping history of the Great Migration. . . . The Warmth of Other Suns builds upon such purely academic works to make the migrant experience both accessible and emotionally compelling." —NPR.org
"The Warmth of Other Suns is a beautifully written, in-depth analysis of what Wilkerson calls "one of the most underreported stories of the 20th century. . .  A masterpiece that sheds light on a significant development in our nation's history." —The San Jose Mercury News

"The Warmth of Other Suns is a beautifully written book that, once begun, is nearly impossible to put aside. It is an unforgettable combination of tragedy and inspiration, and gripping subject matter and characters in a writing style that grabs the reader on Page 1 and never let's go. . . . Woven into the tapestry of [three individuals] lives, in prose that is sweet to savor, Wilkerson tells the larger story, the general situation of life in the South for blacks. . . . If you read one only one book about history this year, read this. If you read only one book about African Americans this year, read this. If you read only one book this year, read this." —The Free Lance Star, Fredericksburg, Va.
"A truly auspicious debut. . . . The author deftly intersperses [her characters'] stories with short vignettes about other individuals and consistently provides the bigger picture without interrupting the flow of the narrative…Wilkerson's focus on the personal aspect lends her book a markedly different, more accessible tone. Her powerful storytelling style, as well, gives this decades-spanning history a welcome novelistic flavor. An impressive take on the Great Migration."  —Kirkus, Starred Review
"[A] magnificent, extensively researched study of the great migration… The drama, poignancy, and romance of a classic immigrant saga pervade this book, hold the reader in its grasp, and resonate long after the reading is done."
—Publishers Weekly, Starred Review
"Not since Alex Haley's Roots has there been a history of equal literary quality where the writing surmounts the rhythmic soul of fiction, where the writer's voice sings a song of redemptive glory as true as Faulkner's southern cantatas."—The San Francisco Examiner

"Profound, necessary and an absolute delight to read." —Toni Morrison
"The Warmth of Other Suns is a sweeping and yet deeply personal tale of America's hidden 20th century history – the long and difficult trek of Southern blacks to the northern and western cities. This is an epic for all Americans who want to understand the making of our modern nation." —Tom Brokaw
"A seminal work of narrative nonfiction. . . . You will never forget these people." —Gay Talese
"With compelling prose and considered analysis, Isabel Wilkerson has given us a landmark portrait of one of the most significant yet little-noted shifts in American history: the migration of African-Americans from the Jim Crow South to the cities of the North and West.  It is a complicated tale, with an infinity of implications for questions of race, power, politics, religion, and class—implications that are unfolding even now.  This book will be long remembered, and savored." —Jon Meacham
"Isabel Wilkerson's The Warmth of Other Suns is an American masterpiece, a stupendous literary success that channels the social sciences as iconic biography in order to tell a vast story of a people's reinvention of itself and of a nation—the first complete history of the Great Black Migration from start to finish, north, east, west." —David Levering Lewis
"Isabel Wilkerson's book is a masterful narrative of the rich wisdom and deep courage of a great people.  Don't miss it!" —Cornel West
AWARDS
Anisfield-Wolf Book AwardWINNER 2011
Heartland AwardWINNER 2011
Hurston/Wright Legacy AwardWINNER 2011
Mark Lynton History PrizeWINNER 2011
NAACP Image AwardWINNER 2010
National Book Critics Circle AwardsWINNER 2010
New York Times Editors' ChoiceWINNER 2010
Sidney Hillman AwardWINNER 2011
Sidney Hillman PrizeWINNER 2011
Stephen E. Ambrose Oral History AwardWINNER 2011
Dayton Literary Peace Prize for NonfictionFINALIST 2011
Via Penguin Random House.